Adult Orthodontics San Antonio
So you didn't get braces as a kid, or maybe you did, but you stopped wearing your retainer. Orthodontics can still help you – you are never too old for braces. In fact, about 25% of orthodontic patients today are adults. And, you will be so proud of your new beautiful smile!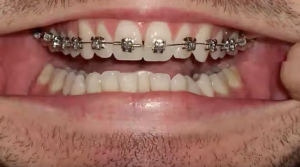 The biological process involved in tooth movement is the same in adults and children. The most important determining factor is the health of the teeth, gums and supporting bone. Because, facial bones are no longer growing in adults, certain corrections cannot be accomplished with braces alone. However, many corrections can and other dramatic changes can be accomplished with a combination of surgery and braces if desired.
New Technologies
Braces have also come a long way since you were a kid. They are more comfortable, the treatment times are shorter and require fewer visits. New technologies have also made advances in cosmetic braces. You can choose between lingual braces that fit behind the teeth, cosmetic braces that are tooth-colored and barely visible, or regular braces that are now much smaller and more comfortable than ever before.
Invisalign
www.invisalign.com
Researchers continue to focus on developing lighter, more comfortable materials, removable appliances, and cosmetic improvements to correct teeth. One such new technology is called the Invisalign system. This combines traditional orthodontic diagnosis and treatment with the latest 3-D computer graphics technology. This process applies a patient's diagnosis and treatment plan to precisely separate large tooth movements into smaller, simpler ones. A series of custom-made, clear appliances (similar to mouthguards or bleaching trays) are worn sequentially by the patient to produce extensive tooth movements normally achieved through braces. If you are interested in learning more about Invisalign, ask us about it.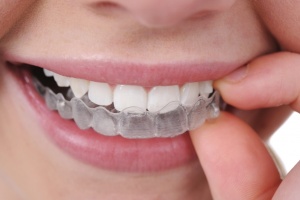 We want you to have the most beautiful smile possible. We will do our part, but you have to do yours too! With the proper care, you can keep those pearly whites your whole life. While you are in braces, good dental hygiene is especially important. In "Caring for Braces" we tell all you need to know about taking care of your teeth during treatment and making sure your treatment progresses as smoothly and quickly as possible. For the short periods when your teeth may be a little sore, we have provided some "Soothing Recipes" for you. And, to make sure you keep your new beautiful smile stays bright, "Taking Care of Your Teeth" tells you everything you need to know to follow a good dental care routine.