Patients Can Now Find an Alternative to Metal Braces
Patients can now find an alternative to metal braces by visiting an Invisalign dentist. Invisalign is custom-made aligners crafted from clear plastic that are molded to teeth. They are comfortable to wear and virtually unnoticeable as Invisalign will gently and gradually adjust your teeth into their proper alignment. Gone are the metal braces and the mouthful of wires and rubber bands. Invisalign offers the clear solution to your teeth straightening needs.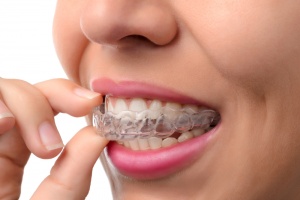 Invisalign is comparable to traditional metal braces and are covered in many dental insurance plans. You simply start by visiting an Invisalign dentist to make your initial appointment for an evaluation. Then the Invisalign aligners will be custom made for your teeth. There are many advantages of Invisalign, which starts with the ability to remove the aligners at any time, unlike metal braces which are fixed to your teeth. Now you can eat, brush and floss without worrying about avoiding certain foods or learning special cleaning techniques. With Invisalign you simply remove the aligners whenever you need.
Invisalign is the new Choice
The unnatural look of metal braces draws undo attention to your mouth, making you feel self conscious and sometimes embarrassed that you are wearing braces. This is especially true for teens that are going through a trying time in their adolescents.
Also metal braces have wires that can occasionally poke out and irritate the mouth. Left unchecked, these wires can cause infections. And if you don't properly use the special cleaning techniques the brackets and wires can become discolored and may create a bad taste in the mouth.
Throw in the regular appointments for tightening sessions that are sometime painful and time consuming and no wonder Invisalign is the clear choice for many reasons.
With Invisalign, you will need to have a new set of aligners fitted every six to eight weeks. But unlike the procedures for metal braces Invisalign does not require any tightening sessions. Your new set of aligners is fitted and then you can go on with your day. These aligners are more comfortable to wear than metal braces and each new set will gently adjust your teeth into their proper alignment. Your trips to the dentist's office are shorter and more productive.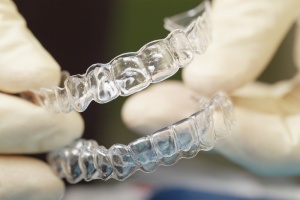 Invisalign is the Choice
Invisalign aligners work for people of all ages from teens to adults. No more will adults have to be concerned about the embarrassment of wearing metal braces to have their teeth straightened and so can teenagers. These adolescent years can be a trying time and metal braces subtract from their sense of appearance. Invisalign provides the same teeth straightening treatment at a comparable cost with no one knowing that they are wearing these clear plastic aligners. Plus, parents can rest assured by taking advantage of the free replacement plan for teens in case they misplace their set of Invisalign. More information here
Affordable Invisalign has adults and teens enjoying this clear option over old fashioned metal braces.