Our San Antonio Orthodontist Recommends a Screening At Age 7
Along with the American Association of Orthodontist, we recommend that a child receive their first orthodontic screening by the age 7. By starting treatment early, we are able to recognize potential problems early and correct them before they become more serious. This not only saves you and your child time, but also money.
Early interceptive orthodontic treatment has proven to be beneficial for the overall desired result. Because a young child's permanent teeth have not finished erupting, we are able to thoroughly evaluate the front-to-back and side-to-side tooth relationships and address any impending problems at its earliest stage.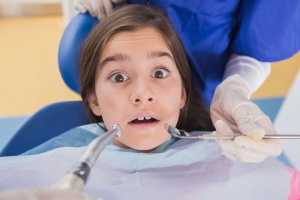 During your child's initial evaluation we will first determine if there are any problems that need to be addressed, such as potential crowding, open bite, overbite or gummy smiles. It is possible that immediate treatment is not necessary at the time or even at all. However, if treatment is indicated, we will create a personalized treatment plan for your child that will prove to be the most beneficial for his/her specific case.
Early orthodontic treatment varies between patients, but may include removable or fixed appliances that can provide more room for crowded, erupting teeth; preserve space for un-erupted teeth; create facial symmetry through manipulating jaw growth; reduce the possibility of tooth extraction; and reduce overall treatment time in braces.
To find out if your child is a candidate for early interceptive treatment, contact us today to schedule a complimentary consultation.
Types of Braces Offered
METAL BRACES
Metal braces are the most common type. They are made of high-grade stainless steel. Today's metal braces are smaller, more comfortable and more attractive.
CERAMIC BRACES
Many patients enjoy the combination of ceramic and metal because it is simultaneously attractive and sturdy. In fact, these braces are so sturdy that many doctors will recommend them to their patients who play sports. Patients are allowed to engage in most everyday activities without fear of delaying or impeding their progress. Also, because they have a semi-transparent color that will not stain, patients can proceed with necessary orthodontic treatment without having to feel self-conscious. These features are designed for patients regardless of age.
Invisalign® Teen
Now teens don't have to worry about embarrassing metal braces in their yearbook photos or Facebook profiles – introducing Invisalign® Teen! Invisalign® Teen is the clear way to straighten teeth without metal braces, using aligners. Aligners are removable and virtually invisible, which means you can straighten your teeth without anyone knowing; and you can still eat and drink what you want. Also, you can brush and floss normally to maintain healthy gums and teeth; and there are no wires, metal or brackets to cause mouth abrasions.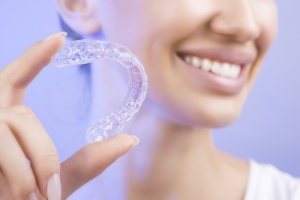 We went to leading orthodontists, parents and teens themselves to custom-design an Invisalign® system just right for the dental needs of teenagers. With blue-to-clear color-changing aligners to show how long each aligner has been worn, six free replacement aligners in case some are lost or broken, and other changes designed to accommodate growing mouths, Invisalign® Teen is the perfect teeth-straightening system for today's teens' busy lifestyles!
What is Invisalign® Teen?
Invisible way to straighten your teeth without braces.
Series of clear, removable, custom-made aligners.
Uses no metal wires or brackets.
Custom-made for comfort.
How does Invisalign® Teen work?
Wear each set of aligners for about two weeks.
Remove only to eat, drink, brush and floss.
Your teeth will move gradually each week.
Visit us every 8-10 weeks.
Total treatment time averages 6-15 months.
Average number of aligners is between 18 and 30.
More information on this website