Invisalign Braces are also used by Dentist for Treatment
Invisalign is used by both orthodontists as well as dentists as a substitute for traditional dental braces which were made of metal. It is a product of Santa Clara based medical-device Company Align Technology. It consists of series of transparent and removable teeth aligners. It provides a complete treatment plan (including initial position as well as final position of the teeth), as it works using 3-D Computer Imaging System.
It helps users to get their teeth straightened without anyone noticing it, and thus is considered to be safe and effective alternative. These aligners of Invisalign are customized as per customer's requirement. The best part is these aligners are removable which gives its users the freedom of eating and drinking as per their choice. During treatment also patients can brush their teeth normally which makes it the best option for teeth and gums, as compared to traditional dental braces which were made of metal wires. The aligners of Invisalign help with crowded teeth as well as with teeth structure in which there are lot amount of spaces. It helps with a cross bite, an overbite and even with an under bite. Invisalign has gifted its users a healthy and beautiful smile.
Advantages
The Invisalign is more in demand among adults who get an option to get their teeth straightened without getting noticed, as the aligners are completely transparent. They are more comfortable than traditional metallic dental braces, as they give the option of eating and drinking as per your own choice without caring of the side-effects. One can remove the appliance while eating, so there is no restriction on any food. It is also safe for gums and supporting tissues, as aligners do not exert extra pressure. Even before undergoing treatment, one can see how his or her teeth structure will look once treatment is over. Normally Invisalign treatment is considered to be quicker as compared to treatment of traditional metallic braces. Survey done on various patients has shown that while traditional treatment takes 35.92 months, Invisalign treatment takes time around 12-18 months. The best part is the aligners of Invisalign can be customized as per user's requirement. Even when someone is undergoing treatment, one can brush his teeth in a normal manner so there is no hygiene issue. Invisalign is suitable for every type of teeth structure, including crowded teeth as well as wide spaced teeth.
Disadvantages:
It is often said when freedom is given, people often start misusing it. The same story sometimes repeats in this case as well. People sometimes start taking it out very frequently. So its successful treatment is actually realized when patients co-operate and are committed to wear it at least 20-22 hours in a day, and removing it only when it is really required. Moreover Invisalign does not require cephalometric radiograph. In terms of cost, it is expensive as compared to traditional metallic braces as well as bracket systems. It has to be ensured by the users that are cleaning the Invisalign as well as their teeth before reinserting it. There are certain teeth which do not allow Invisalign to rotate. For example there are certain premolars which have a round shape, and it becomes difficult for aligners to apply rotational force. In certain cases there can be allergic and toxic sensitivity reactions such as sore throat, cough and nausea to Invisalign, as the aligners are made of implantable-grade polyurethane. In case the patients fail to keep aligners for required duration, the nest aligner in the series is likely to be unfit, which will again require a new set of aligners, and thus once again becoming a costly venture.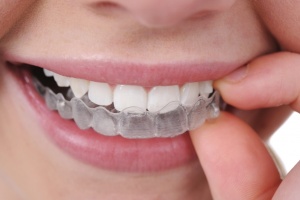 Scientific Studies
Scientific studies as well as surveys have showed that Invisalign meets it objectives. The patients were seen after using two sets of aligners, and the success rate was almost 94%. In the USA, Akhlaghi and colleagues concluded that traditional braces were more effective as compared to Invisalign when it came to the treatment of complex teeth structure. Even in larger studies, Dieu and other colleagues supported Akhlaghi and colleagues, as they concluded that Invisalign was not fit in treatment of large anteroposterior discrepancies and occlusal contacts. They even talked about strengths saying that Invisalign helps to close spaces, and correct anterior rotations as well as anterior rotations and marginal ridge heights. It treats 4 months earlier as compared to traditional braces. As compared to traditional braces, Invisalign treatment is considered to be more effective for Marginal Ridges, Bucco-lingual Inclination, Occlusal Contacts and Overjet.
Pricing:
Normally Invisalign treatment price is more than traditional metallic dental braces. The treatment price is normally set by the dentist. The doctor fee is dependent on complexity and length of treatment. In the US Region, treatment range in price from $3, 000 to $9, 000 and it depends on geographic location. In Europe, the treatment price varies from €3,000 to €7,800, and the cost is totally dependent on case complexity. In Australia, the price ranges from $5000 to $9000.
Treatment:
The treatment begins by taking dental impressions, x-rays and then photographs of patient's teeth. These are sent to Align Technology. CT Scan is done of these impressions and then the computer creates a three-dimensional model. The information which is collected is sent to Costa Rica which is then analyzed by non-dentist as well as non-orthodontist lay persons who individualize the teeth in the Computer Model after which they move it to the final position as the orthodontist prescribes. Then there is Custom software which analyzed the movement of teeth in different stages, and the orthodontist reviews it using Align Technology ClinCheck, after which he finally approves or makes changes in the treatment. Once everything is finalized, a plastic resin aligner is manufactured for every computer stimulated stage and is sent to orthodontist. Then attachments are made which a patient can expect even up to fourteen in number. Then these Aligners are tooth colored and are made of glass like substance. Elastic wear is also used to move the teeth forward and backward in respect to the jaw's position, and this helps in anterior and posterior corrections. Sometimes Reproximation is also done for better fit. Normally Average Treatment takes a time period of one year. However minor cases might take a time line of twenty weeks. One should wear aligners at least 20-22 hours per day. Once Regular aligners and braces treatment is over, retainers composed of similar plastic material is required to be worn at night time.
Thank you for visiting How much does invisalign cost, please read our other articles on Invisalign and braces.