What are Invisalign braces?
Invisalign reviews and answers to the question "does Invisalign work?"
Invisalign (by Align Technology, Inc.) are not braces at all! Instead of braces, Invisalign is a series of clear trays that are worn on crooked teeth to gradually straighten them. When worn, Invisalign trays are practically "invisible," unlike metal braces or even clear braces. Besides being more cosmetically pleasing than traditional orthodontic braces, Invisalign is also popular because they are generally more comfortable than braces. The trays are smooth and will not irritate your lips and cheeks like traditional braces can.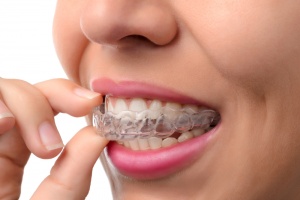 When eating with braces, food gets stuck easily in the braces and often takes some careful brushing to clean out the food particles. Because Invisalign trays are removable, you can remove the trays when eating and do not have to worry about large food particles being stuck in front of your teeth. The trays may also be removed for brushing, flossing, and for special occasions.
Each Invisalign tray needs to be worn for 20-22 hours per day. Each set of trays moves the teeth a small amount until they are straight. Invisalign orthodontics invisible clear trays straighten teeth without braces. Typically there are 10-48 sets of upper and lower Invisalign trays, and each set is worn for two weeks before proceeding to the next set. Treatment therefore can take anywhere from 5 to 24 months, depending on the complexity of the case, and how well the trays are worn. Invisalign can be used to correct many, but not all, orthodontic problems. Your orthodontist can advise you on whether or not Invisalign would be a good choice to straighten your teeth.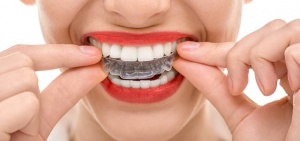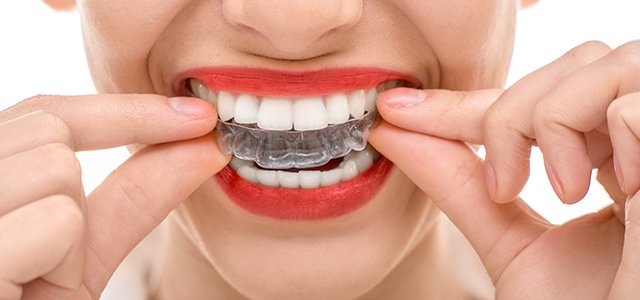 How Invisalign trays are made
Once you have decided to use Invisalign to straighten your teeth, your Invisalign dentist or orthodontist will take special impressions ("molds") of your teeth to send to the Invisalign lab. These Invisalign dentist or orthodontist takes teeth impressions for Invisalign clear traysimpressions are scanned and a 3-D computer model of you teeth is created. Technicians move the individual teeth into alignment on the computer and send this "mock-up" back to the Invisalign dentist or orthodontist. The doctor will often modify this "mock-up" and send it back and forth to the Invisalign lab several times until the best computer version of the straight teeth is created. Your Invisalign dentist or orthodontist can show you this virtual treatment so you will be able to see the 3-D representations of your teeth before, during, and after completion of your Invisalign treatment.
After the Invisalign virtual treatment has been approved by your dentist or orthodontist, the Invisalign lab creates the series of clear plastic trays and sends them back to be provided to you. Several trays are given to you at a time and you are asked to wear the aligners at all times, with the exception of eating and drinking. You are asked to come back to the office every 4-8 weeks to pick up the new aligners and have the doctor monitor your progress and success of each stage of Invisalign treatment. Find more information on this website @ https://cochranorthodontics.com/